Writing Advice for Hard Times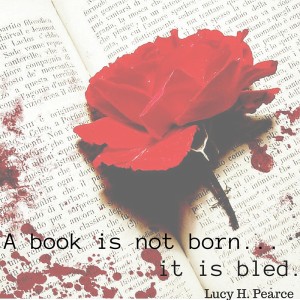 Yesterday was a hard writing day. It felt like climbing a mountain without oxygen. The mountain was Everest and I was equipped with a festival poncho and a children's wooden peg mallet…
This is HARD, I thought. Why does each book require that I bleed myself onto the page?
And then quickly reminded myself that in comparison with all the really hard jobs out there, requiring actual blood and guts – infantry soldier, surgeon, carer, police officer, cleaner… I should cop myself on and stop moaning.
But it brought to mind a couple of my favourite quotes, that I wanted to share with you for your hard writing days (I collect these and other bits of writing advice on my popular Pinterest board – The Art of Writing).
I'm working on my next book – Burning Woman.
What's it about? I keep being asked…
It's for women who burn with passion, have been burned with shame and at another time or place would be burned at the stake… It's basically about feminine power and the constraints made on it, how to detangle yourself from these constraints to be able to reclaim your power and authentic (creative) expression as a woman.
I hope to get it out for early summer 2016.
But yesterday it felt like the summit was a million miles away… In terms of this great model, I am about 50% there… wavering between 40% and 60%!
And then after a discussion with my editor (yes, I'm investing in an editor… AKA my best-friend and creative soul-sister, to be the sounding board and editor I was longing for when I got a publisher)… with her feedback on part one of my new book, it was like a shot of pure oxygen to my system and I pushed on through, getting part two to her by close of business last night.
Last night sitting at dinner, reflecting on the day with Mr DA, I was explaining how I hadn't been sure I would ever manage to finish part two, with all the other parts the form and the content were somehow easier to manage, but this one… it was like fumbling around in the dark.
And then I started to laugh like a looney. The part was is called: The Darkness… so ummm, yes, irony much!
So that's where I am, fighting my way out…
And if you are too, or if you're ready to release your work out into the world… then come and join me.
Next week is enrollment for our Be Your Own Publisher e-course (don't miss the fab early bird price on Monday.) Sign up for the FREE author interview series with some of my favourite authors talk publishing, self-publishing, making a living from your writing and their writing process… and you'll also get module 1 of the course FREE.
Share