A Pebble for Your Pocket
What is it with stones? Perhaps you share my strange habit… of picking up pebbles and popping them in your pocket as you walk along a beach or beside a river.
Every time I'm feeling overwhelmed, angry, in need of inspiration… I go down to the beach near our house. I walk the strand, look out to sea, sometimes draw labyrinths in the sand, and I always take a pebble and pop it in my coat pocket.
My hand is drawn to it as I go through my daily life. I silently turn it over in my hand and it brings me back to a place of clarity and connection. Brings me back to my soul and gives me a sense of solidity.
Pebbles have been a passion for as long as I can remember. When I went backpacking around the world in my early twenties I picked up black lava rock and greenstone from NZ, pyrite, coral… until I doubted myself – who carts heavy rocks around the world with a weight limit? I ditched them somewhere – these little parts of places where I had found – and left – bits of my soul.
Pebbles feature heavily here on the blog, for many reasons. I was deep inspired by Judith Duerk's book Circle of Stones around the same time as setting up this blog and my local women's group. It was the impetus I needed. In it she asks this important question: how would your life be different, if you had a circle of women to go to? I typed this up on little pieces of paper and handed them out as invitations to the women I felt closest to at our local breastfeeding group. Invitations to connect more closely. As women.
A circle of stones is a metaphor for a circle of wise women who hold space for you. Who ground you and help you find your centre again. My women's group has been that for many years.
Dreaming Aloud is another important circle of stones to me. And I vision it as one for you too. My intention with every post is to send you away with a pebble in your pocket, something solid and beautiful to hold onto, to turn over in your mind throughout the day.
The spiral of pebbles in the Dreaming Aloud logo harks back to my graduate degree at Cambridge University. There was an artists' house that we often visited called Kettles Yard. In the sitting room was a simple wooden table in a sunny window with a beautiful spiral of white pebbles.
On my first visit I sat there, in the midst of the hubbub of school children and wrote a poem. I bought three postcards and have always had one close to hand to inspire me – for me this represents everyday zen, a topic which Dreaming Aloud returns to many times: a celebration of simplicity, the connection between art and nature, the spiral journey…
The original Dreaming Aloud blog had a photograph of a stone spiral as its logo, the spiral was made with a group of women on International Women's Day a few years back, out of the stones on our local beach. (It is appearing in the very first Earth Pathways Wall Calendar this year!)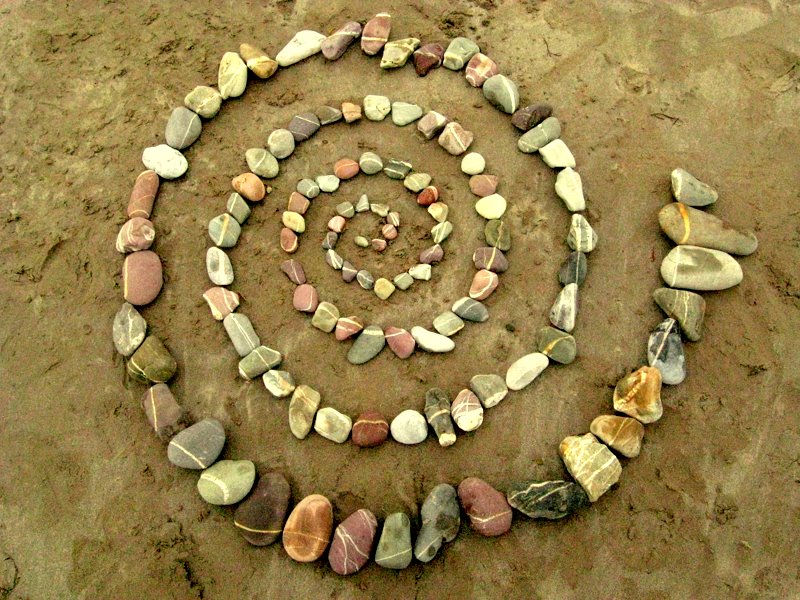 It was a beautiful and evocative image, and one of the examples of random acts of beauty which I regularly create on my walks. I often leave spirals of stones, mandalas of leaves and flowers, chains of blossoms, labyrinths, and other ephemeral art behind me.
In our family we gift each other pebbles and crystals. Little solid gifts of love and belonging. Passed from soul to soul.
I thought nothing more of this fascination with pebbles.
Until I discovered this, which made so much sense to me, as someone who finds it hard to stay grounded, and feel a sense of solidity and belonging:
Shamanic pebble healing
"As part of the ritual to merge the mountain and human energy, those who are receiving the "mountain energy" are sent to a mountain area of their choice, where they pick up a stone that calls to them. They bring that stone back for the rest of the ritual and then keep it as a companion; some even carry it around with them. "The presence of the stone does a lot in tuning the perceptive ability of the person," notes Dr. Somé. "They receive all kinds of information that they can make use of, so it's like they get some tangible guidance from the other world as to how to live their life."
When it is the "river energy," those being called go to the river and, after speaking to the river spirit, find a water stone to bring back for the same kind of ritual as with the mountain spirit.
"People think something extraordinary must be done in an extraordinary situation like this," he says. That's not usually the case. Sometimes it is as simple as carrying a stone."
http://www.wakingtimes.com/2014/08/22/shaman-sees-mental-hospital/
Share